Well that was a crazy four days. Fashion weekend and all it's related festivities, Snowball music festival, boy drama and a few well timed shots of tequila...all in all I'm a pretty satisfied girl right now. I also had a major lesson in cameras and what I need to get the best pics for this blog. (Hint: it's not an iPhone) I have a lot to cover and for everyone's sake will break it up into two posts. So let's start with le fashion, shall we?
I already covered what I saw for night 1 (of 3) of Denver Fashion Weekend. It was the national brands/street style night and it fell kind of flat on both accounts. But the crowd was cool (fashionable and friendly), the show was well produced and it was a fun night. So what about night 2, which featured local designers? Well, the crowd was huge and well dressed but more aggressive than the crowd on nights 1 or 3. Plenty of fashion-type attitude to go around, which was a little surprising given that this is Denver, after all. I particularly enjoyed being pushed while waiting in line to get to the show floor - apparently some people don't care how they get to the front of the line or that there are 30 other people waiting to get to the same exact place they were heading...but I digress. For my own outfit, I was a good little blogger and shopped my own closet to put together a jersey skirt/graphic tee/statement belt combo. I also wore my beloved leather jacket and flat black leather boots.
Now before we talk about the fashion show itself, I want to mention the after party which was at Epernay lounge. The. place. was. packed! I spent some time inside near the bar and it was wall to wall with people who were out for fashion weekend as well as other people just out and about celebrating life. I then moved on to the cozy patio to hang with friends and enjoy some quieter conversation. That night was only my second time there but the space is a fabulous change of pace from the clubs downtown. It is a proper lounge with a DJ, so you can dance, but it really is more of a place to chill, listen to music, have drinks and socialize (or see and be seen in cases like Saturday's after party). Sexy spot and I can't wait to go again.
And now on to the fashion...night two of Denver Fashion Weekend was electric. There was so much energy there in City Hall with people anticipating the show and the fashions (and Mondo) and the music chosen for the show just helped to keep the crowd pumped. Now, I wasn't expecting the pieces shown on night two to be super impressive because, as much as I love Denver and it's budding fashion design scene, it is just budding and filled with what I see as a lot of raw talent. And indeed, I didn't leave the show with a "lust list" a mile long and have no plans to track down anything I saw on the runway. But I was much more impressed than I expected to be. My favorite segments were from the boutiques, particularly Tikwid. Is it weird that my favorite parts of the "local design" show were the parts that featured non-local designers? Whoops. In my defense, Tikwid's segment was likely the start of a long and beautiful love affair for me and the boutique...as soon as my wardrobe budget opens up a bit. I'm dying to see how I can update my look a bit with some of their avant garde pieces. Check out the gallery below for a few pics of my favorite pieces and you can click here to see the full gallery over at 303 magazine's website (gallery pics are from 303's website, pics further down are my own).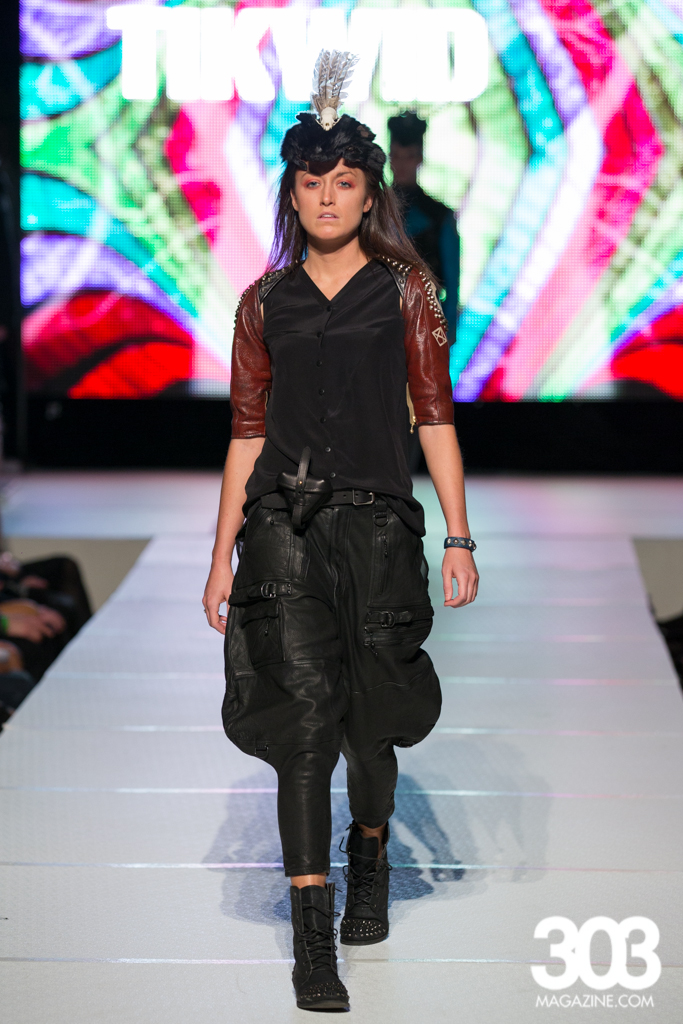 And a few shots from the crowd...