Did it really take me until Thursday to get part 2 of my weekend posted for you guys? Why yes, yes it did and I apologize! I came right out of the weekend excitement into three days of work and meetings. Yuck. Of course my ideal scenario would have had me recovering from the weekend by spending hours lounging poolside at a South Beach hotel instead. I'll just have to do better next time ;) But I can't complain too much, I was a lucky girl and got to spend my weekend bouncing between fashion weekend festivities and the Snowball music festival. The only thing that would have made life more perfect was if I had somehow managed to squeeze in a brunch or two.
Ok, so you've heard about Denver Fashion Weekend night 2 and while that one needed an entire post of it's own to cover, my account of night 3 will be quick. Night 3 was the hair show and hair styling awards. I'd never been to a hair show before and was tempted to skip this night since I was so exhausted from everything I did earlier in the weekend. But somehow I woke up on Sunday with more energy than expected and a burning desire to see what the fuss was all about. So how was it?...late. It was very late. To start, I was late and got to the venue about 15 minutes after the hair show was scheduled to start. But fashion things are never on time, so I wasn't too worried. It's a good thing I didn't get there any earlier, because we wound up waiting almost another 2 hours before the show even began. Yep. In that time I enjoyed some people watching, a cocktail and a yummy donut hole courtesy of LaMar's. The crowd was cool and it's interesting how each night of fashion weekend had a distinctly different vibe. Sunday's group was mostly the super cool artsy, tattooed set and many seemed to be part of the hairstyling community, which makes sense. Once the show finally started, it was a lot of fun. Apparently hair shows (of this type, at least) are about art and letting stylists get creative and editorial in ways that they don't normally get to while working on their regular day to day clients. That means that the styles sent down the runway were very different than what you'd see walking out of a salon. There was a ton of texturized volume, a birdcage(!), and dramatic mustaches and pompadours. I had a good time but because of how late things got started, I had to leave at intermission, unfortunately. Not to worry, I got to catch up on what I missed by checking out the gallery posted at 303magazine. Check below for my own pics of the parts I did catch.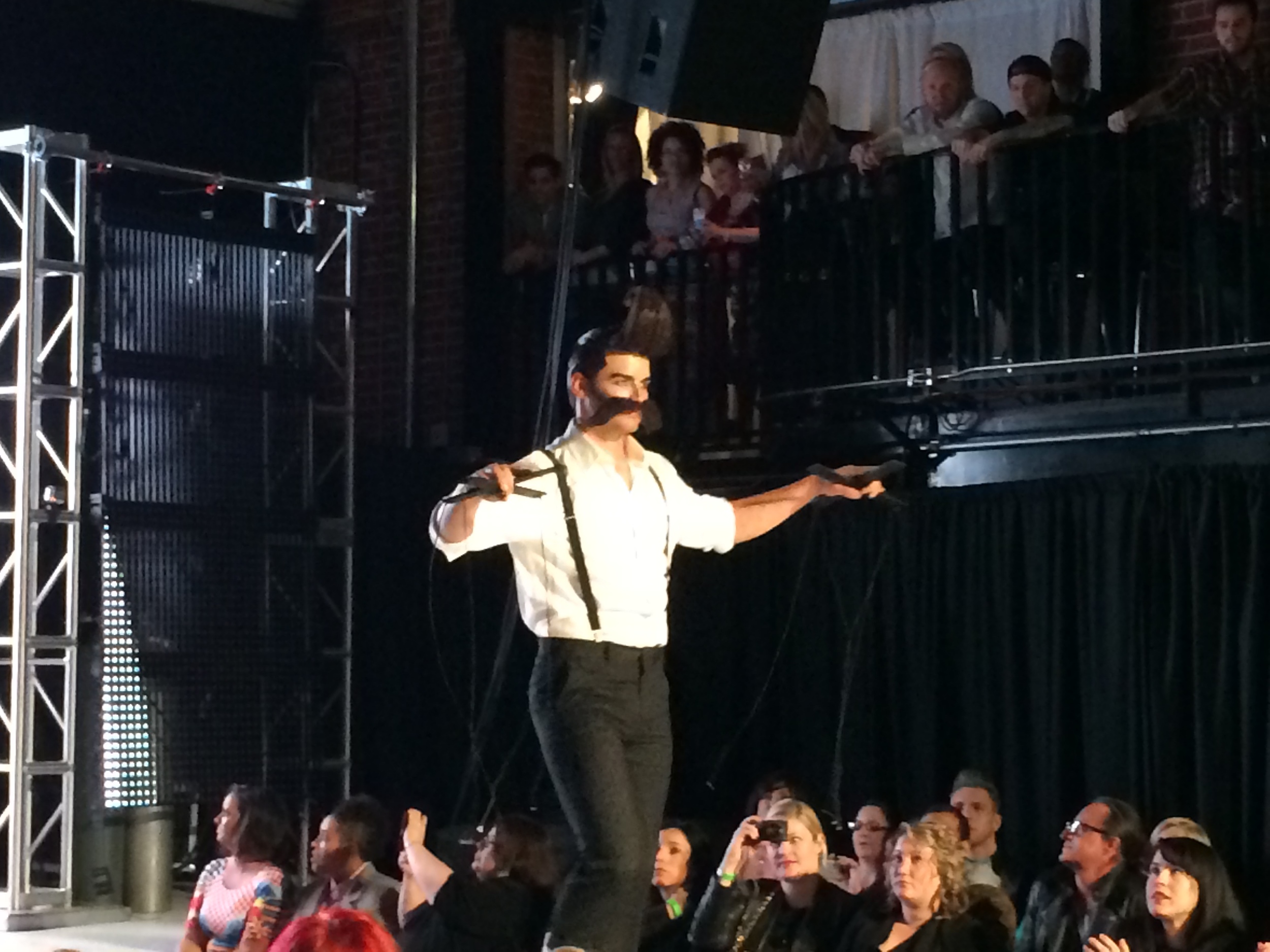 Now onto Snowball, which in my excitement to attend, I nicknamed "Snow Coachella". Having been to Coachella as my first music festival last year, I was excited to see how the festival fashion at Snowball would compare. Would it be as event specific, as outlandish as some of what I saw in Indio? Let me just say this - my Denver people did not disappoint. There was plenty of face paintings and fringed shirt/skirt/boot ensembles on display. And for a moment, I was totally in love with and convinced that I need a pair of galaxy printed leggings until I saw about 20 pairs in a five minute span and was over them just like that. But I LOVED the ski bum outfits that some ladies chose and I'm sure they stayed cozy as the afternoon weather went from springy to blustery in typical Colorado style. Extra points to the ski outfits because Snowball is typically held up in the mountains in ski towns, such as Winter Park and Vail. This was it's first year in Denver and while I really hope it returns, the ski wear was a nice nod to the festival's history.
While at Snowball, I came up with an idea for future posts - my featured style crush. I don't know about you, but nearly every time I go out I wind up with a style crush on someone's outfit of the day and I'd like to include pics of my crushes in future entries. Besides general style inspiration, wouldn't it be cool to get a sense of the street style here in Denver? Well I promise to start getting those for you, along with more of my own outfit of the day photos. In the meantime, enjoy this fun video from the STRFKR set.